Import Video Game: Melty Blood: Actress Again for the PlayStation 2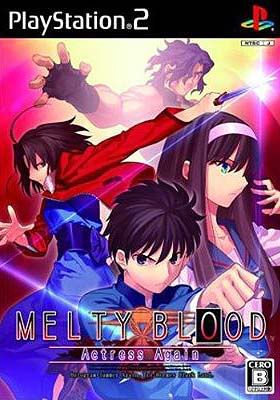 Fast-paced, 2D, crazy comboes, what else could you ask for in a fighting game? Anime characters? Yep, got those too.
Most of the anime-styled fighting games are only available in Japan, meaning that if you want more choices in that genre, you'll have to look for import video games to satisfy your cravings. Melty Blood is one of those Japan only fighting games.
Opening movie:
This is actually the third entry in the series, but it is the only the second to be ported to a console. Each character has 3 different fighting styles that alter their moveset, meaning that while the number of characters is limited to almost 30 (which is a pretty impressive number as-is), there are nearly 90 different choices for fighting once you take into account Full Moon Style, Crescent Moon Style, and Half Moon Style (which represent Power, Speed, and Simplicity, respectively). It also provides many of mechanics that are similar to Guilty Gear and BlazBlue, both of which are really big games in this genre.
Here's a nice example of what the battles themselves are like:
What's more, this comes in either the standard edition, or the First Print Limited Edition for the die-hard collectors out there.
To buy the standard edition, try
HERE
To buy the First Print Limited Edition, try
HERE
Have fun playing!
-Kuro Matsuri