Afrika or Hakuna Matata for the PS3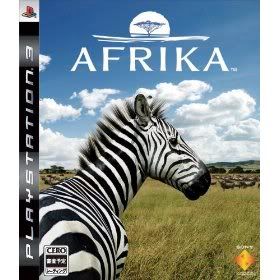 So, there's this interesting game that's been out in Japan for quite a while. It's called Afrika. It's a lot like Pokemon Snap, except that you can travel wherever you want, and you're taking pictures of animals that actually exist!
In the official Tokyo Game Show 2006 Trailer, you get to see how incredible all the animals look in-game. While, it's obviously not perfect, it's getting rather close to it!
Not sure if you're intrigued or not? Well, you can check out the nearly 9 minute gameplay video below. Be warned, though, this is the Japanese version being shown, so the beginning story won't be particular obvious unless you know Japanese.
Now, of course, non-HD YouTube videos hardly do any PS3 game justice, but you can still get a pretty good idea of how realistic it looks in full HD.
Now, admittedly, this isn't your average game. There aren't any guns, and it's more of a "safari simulator" than anything else, but it's still an impressive, relaxing, and enjoyable game!
This game should be coming to the U.S. sometime soon, but guess what! You can guess this game right now in English! It's actually the Korean version, but it is completely in English and works just fine on an American PS3! Check it out in the links below!
Where to find it:
To buy the English version (which is currently on sale!), try
Play-Asia
To buy the original Japanese version (Best Hits version), try
Play-Asia
To see all of the available versions, try
Play-Asia
Or, alternatively, look on eBay. This one is likely fairly easy to find on eBay.
Have fun playing!
-Kuro Matsuri