Import Video Game: N.U.D.E.@ or Natural Ultimate Digital Experiment for the Xbox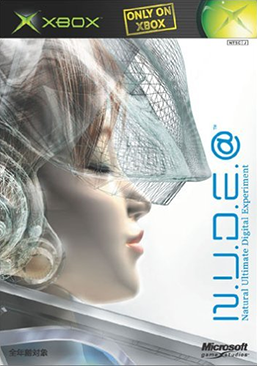 The Japanese market often gets really interesting and even experimental video games. This is one of those games. In N.U.D.E.@ (or Natural Ultimate Digital Experiment) for the Xbox, you are given a female robot, named P.A.S.S. (or Personal Assist Secretary System... I know, it doesn't make a whole lot of sense) who comes into the world with very limited knowledge. You are charged with teaching P.A.S.S. how to do a variety of tasks using voice commands. Of course, many will find P.A.S.S. to be a relatively attractive female humanoid robot... that's partially the point.
Unfortunately, this game is so rare that I was unable to find any videos of gameplay, but I was able to find the Japanese trailer, so you can at least see P.A.S.S. come to life in front of your very eyes! If anybody out there knows of a gameplay trailer on YouTube, let me know in the comments, and I'll add it in!
Edit: Well, I did have the Japanese trailer, but it was removed from YouTube. However, I did find the rare English trailer (admittedly in lower quality), and I think that will work just fine.
Where to find it:
Well, Play-Asia lists this item, but it's currently out of stock. If you would like to check their
listings
, go right ahead. Due to the extreme rarity of this game, it might not be in stock. Alternatively, you can try eBay, but honestly, the game is SO rare, that only a few copies show up on eBay per year. This is a real collector's item.
Have fun playing!
-Kuro Matsuri