Final Fantasy XIII now has a release date and a price!
Well, it does for Japan, at least.
A YouTube Flash-based ad was discovered that showed the release date, and with some careful URL editing, this exact image was discovered: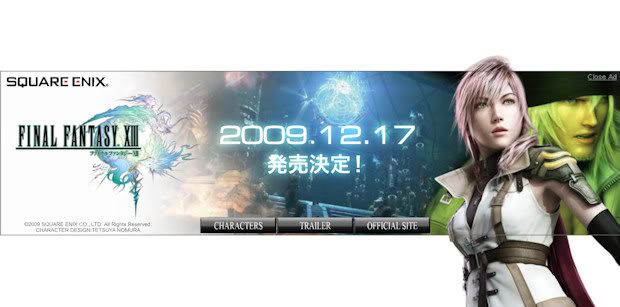 So, December 17th is the release date, and it has been confirmed by Square Enix already. When they confirmed it, they also announced the price. 8800 Yen, which translates to about $95... ouch. But there is only a general release date for the US (Spring 2010... at least that's what they're "aiming" for), so if you want the game months before your friends, or you just want it as soon as possible, importing it is the only way to do so.
The good news is that you can preorder the game for a little less than the launch price right now through Play-Asia.com. They have it available for $89.90, a price that will be available until Dec. 12, 2009, at which point the price will go back up to $94.90.
To pre-order Final Fantasy XIII, try
HERE
Have fun playing!
-Kuro Matsuri