Here's one of the big 3 this year!
The DS, the PS3, and the PSP seemed to get all of the attention, with a heavy focus on the PSP, to be honest. But, here are some great new PS3 titles to look forward to.
Yakuza 4 (Ryu ga Gotoku 4)
Called Yakuza in the USA and Ryu ga Gotoku in Japan, the 3rd one hasn't even made it to our shores yet, but the 4th one was recently announced for Japan at TGS this year. Thus the reason for importing. Who knows, though there are supposedly plans to release 3 on PSN, we may never get 3 or 4 in the states.
Star Ocean: The Last Hope: International
The international version of Star Ocean: The Last Hope has been announced as a PS3 exclusive, surprisingly coming straight to the US shores, unlike previous Square Enix International Versions (Final Fantasy VII International and Final Fantasy XII International, I'm talking about you). In fact, you can even
pre-order it
!
Resonance of Fate (End of Eternity)
Called Resonance of Fate in the US and End of Eternity in Japan, this ambitious RPG was actually announced a few months before TGS, but they released a nice new trailer for it at TGS. It's time to meet all of the characters, and they do look pretty! (also available on Xbox 360)
Nier Replicant
The PS3 exclusive version of Square Enix's new IP, Nier. With a decidedly avant-garde style to it, it looks like an exciting title. Let's see what else Square Enix does with it, especially since there is both a PS3 exclusive version and an Xbox 360 exclusive version.
Hustler King
I almost don't want to put this one in here. A pool game? Really? Oh well, pool is still fun... I just don't see how it could beat the real thing, which is generally pretty accessible for most people, at least in the US.
Other PS3 news from TGS!
Gran Turismo 5 has a release date for Japan. It's coming March 2010, assuming that you believe that they won't delay it.
Sony has announced a limited edition Final Fantasy XIII PS3 Slim! Too bad it's pink and white: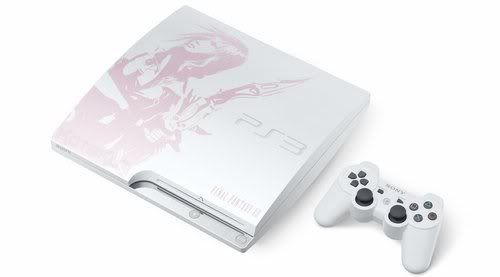 Sony's motion controller seems to be set for a Spring 2010 release, and there will be several PS3 titles that will be re-released with motion controller functionality, mainly Resident Evil 5, PAIN, Flower, and Little Big Planet, as well as some all new titles that feature the functionality like Ape Escape, EchoChrome 2, and Tower. We'll see how good it turns out when it's released.
Next up is the behemoth PSP post, which will probably have to wait until tomorrow due to time constraints. School + work + being sick + TGS can suck away your time like nothing else.
Have fun playing!
-Kuro Matsuri