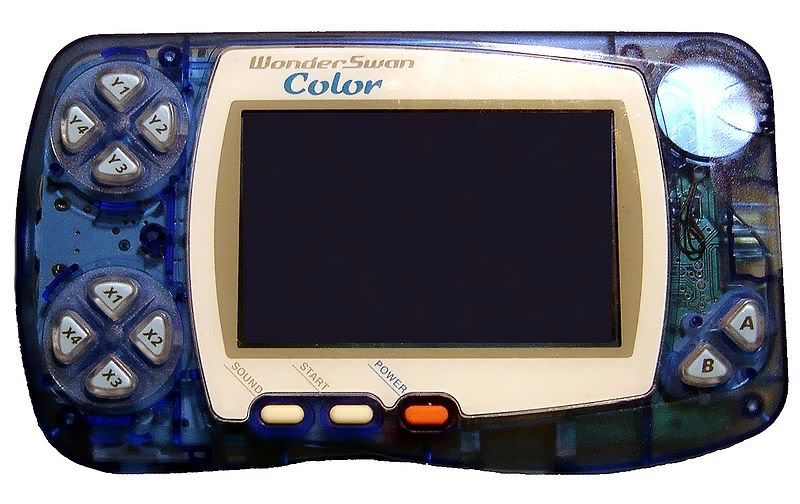 The Wonderswan Color was released by Bandai in Japan only at the end of December 2000. Bandai made several consoles that never made it out of Japan, including the predecessor to the Wonderswan Color, simply called the Wonderswan.
The Wonderswan Color was better than the Gameboy Color in many ways, but it was not quite as good as the Gameboy Advance. It did have one edge over the original GBA, though, and that's battery life. The Wonderswan Color could last up to 20 hours on a single AA battery, which is pretty impressive. It also debuted at a particularly low price, around $60 new. Thanks to the low price and it's one year lead on the GBA, it was ALMOST a threat to Nintendo!
But, the Wonderswan Color was somewhat lacking in games when compared to the Nintendo handhelds. It had a few excellent games, especially since Square Enix agreed to remake Final Fantasy I, II, III, and IV for the system. It did manage to exceed a total of 100 games, including, but not limited to, RockMan (MegaMan here in the states), Guilty Gear, Super Robot Wars, and Gundam games. So, in short, it's not the best library, but it certainly isn't bad. And that's before factoring in the backwards compatibility with the original Wonderswan!
Of course, since the console was only released in one region, region protection isn't an issue. Then again, you still have to import everything you play on it since none of it was released here.
Now, the console is more of a collector's item since most of the games were later ported to the GBA or other systems, but just to further entice the collector in you, there were a few limited release Wonderswan Color packages. There was the Final Fantasy I Limited Edition Box Set and the Final Fantasy II Limited Edition Box Set, compliments of Square Enix, provided that you are willing to pay the premium for it. Still, the console by itself is an interesting collector's item that can still be enjoyed for a pretty low price. It may even turn some heads if you play it out in public!
Play-Asia options:
Buy WonderSwan Color Console - Pearl Pink at Play-Asia.com
(currently in stock)
Buy Wonderswan Color Console and Games at Play-Asia.com
(for the others that might be in stock later)
Amazon options:
Have fun playing!
-Kuro Matsuri